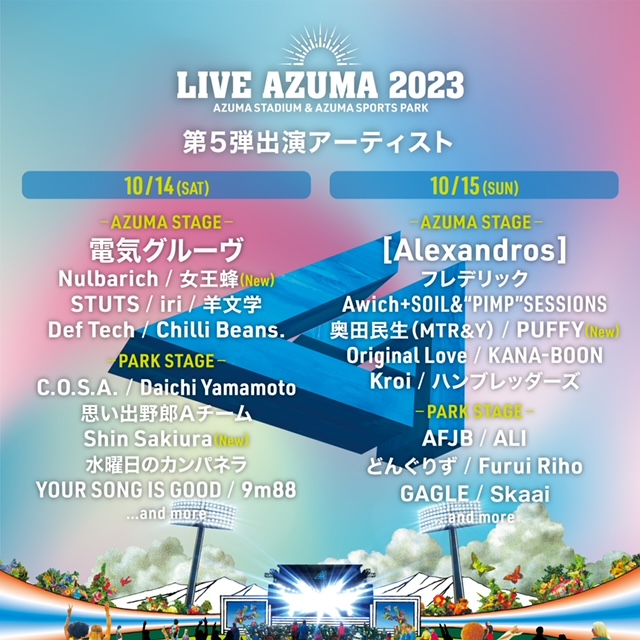 チケット価格
Adults
1 DAY PASS
9,900円 (税込)
Students
1 DAY PASS
7,900円 (税込)
イベント詳細
公演期間
2023/10/14(Sat) 10:30
2023/10/15(Sun) 10:30
販売期間: GENERAL SALE
2023/9/1(Fri.) 10:00 〜
出演者
10/14 (Sat)
-AZUMA STAGE-
電気グルーヴ
Nulbarich / 女王蜂 / STUTS / iri / 羊文学 / Def Tech / Chilli Beans.
-PARK STAGE-
C.O.S.A. / Daichi Yamamoto / 思い出野郎Aチーム /
Shin Sakiura / 水曜日のカンパネラ / YOUR SONG IS GOOD / 9m88(from Taiwan)

10/15 (Sun)
-AZUMA STAGE-
[Alexandros]
フレデリック / Awich+SOIL&"PIMP"SESSIONS /
奥田民生(MTR&Y) / PUFFY / Original Love / KANA-BOON / Kroi / ハンブレッダーズ
-PARK STAGE-
AFJB / ALI / どんぐりず / Furui Riho / GAGLE / Skaai

…and more!
説明/注意事項
※Please use public transportation when coming to the show.
※We apologize for the inconvenience, but please contact KYODO TOHOKU prior to the performance if you are coming in a wheelchair.
[Adults 1 Day Pass]
※Only one preschool child is admitted free per admission ticket, accompanied by a parent or guardian.
[Students 1 Day Pass]
※Photo ID will be checked at the entrance for junior and senior high school students. If the photo ID cannot be verified at that time, you will be asked to pay the difference for the regular advance admission ticket.
※Tickets will not be refunded due to changes or cancellations of performers, inclement weather, etc.
※After you have exchanged your ticket, your wristband is your proof of purchase. Please do not lose it.
※Tickets and wristbands will not be reissued in any case.
※Please be sure to check the notes on the
official website
before coming to the event.
※A paid shuttle bus will be available from Fukushima Station.
※Please exit promptly after the event.
※The organizer and venue will not be responsible for any accidents, theft, etc. Please understand this in advance.
※We charge a commission of 10%.
※Please issue a ticket at the 7-Eleven store in Japan before coming to the venue.
※Tickets can not be issued at 7-Eleven stores other than Japan.
※Please present the 13-digit "Payment slip number" that will be issued after confirmation of purchase to a store clerk of 7-Eleven.
※After completing the application, you can not change or cancel the tickets purchased.
※※日本在住の皆様※※
こちらは海外在住の方向けのチケット販売です。日本在住の方は国内販売をご利用ください。ご了承のほどお願い申し上げます。
This is the ticket booking website for non-Japan residents. Please note those who live in Japan can't purchase tickets via this page regardless of nationality.
お問い合わせ先
KYODO TOHOKU 022-217-7788
公演開催一覧
このイベントの販売は終了しました
〔10/14(Sat)1DayPass〕LIVE AZUMA 2023
2023年 10月 14日 (土)
開場 09:30 / 開演 10:30
福島県
あづま総合運動公園
〔10/14(Sat)1DayPass〕LIVE AZUMA 2023
〔10/15(Sun)1DayPass〕LIVE AZUMA 2023
2023年 10月 15日 (日)
開場 09:30 / 開演 10:30
福島県
あづま総合運動公園
〔10/15(Sun)1DayPass〕LIVE AZUMA 2023